HARVEST REPORT - 2016
Dry Farming, Cool Climate and Eternal Snow. We can honestly say that 2016 has been the coolest year in the last three decades. The cool climate started over the winter of 2015 when snow poured over the Andes filling up the mountain streams and underground aquifers to historic highs. The Andes stayed white throughout the summer and photographs of green vineyards next to snow-covered mountains abounded on social media. Yields were 40 to 50 percent down throughout the region resulting in extremely concentrated mineral and age-worthy wines.
Prepared by Dr. Laura Catena, Chief Winemaker Alejandro Vigil and Viticulturist Luis Reginato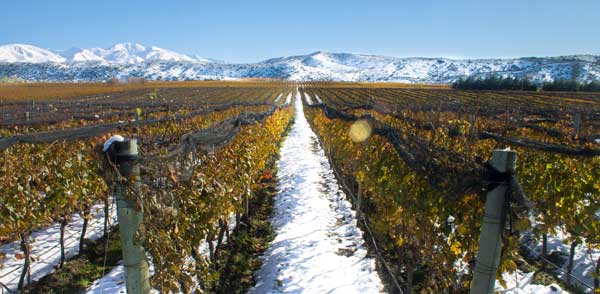 But as the summer approached and the rains continued, we feared another 1998, a year when three weeks of rain brought botrytis in the midst of a warm summer. The extremely cool summer weather ended up saving us in two very specific ways: 1. Yields were 40-50% down throughout Mendoza and the widely spread fruit were thus protected from disease 2. The cool climate prevented botrytis from spreading throughout the province.
By the crucial months of February and March, the El Niño rains had slowed and the harvest continued at the usual rate. The end of harvest was declared on April 25th with the first Autumn snow. All in all, this was one of the shortest overall harvest seasons that we can remember, having started 2-3 weeks late, and ended 2 weeks early. The wines of 2016 are unusually low in alcohol (12.5 to 13.5 is the norm) and high in natural acidity. And if cool climate matters as we think it does, many areas that we generally consider too warm for the highest quality have behaved exceptionally well in the 2015-2016 season.
Zone 4 Winkler became Zone 3, Zone 3 became Zone 2 and so on. We are also surprised to see absolutely no dilution in flavors from the increased rains. Perhaps this is due to the fact that from February to April precipitations stayed within the norm, but regardless, this year makes us question everything we have previously believed about water stress and climate change.
The key to quality this year was parcellization. Over the last decade, the Catena Zapata viticultural team hand in hand with the Catena Institute have mapped our estate vineyards into hundreds of parcels that are farmed and harvested separately. With the rains, heterogeneity increased in many places and identifying the right harvest time for an individual parcel and soil type was more crucial than ever. We will know more about ageability and quality of each region, vineyard and parcel in June and July when we get ready for blending.
2016 HARVEST IN THE CATENA ZAPATA VINEYARDS
ADRIANNA VINEYARD: SOUTH AMERICA'S GRAND CRU VINEYARD - Gualtallary, Tupungato, Uco Valley, Mendoza, 4757 ft elevation
The rains were highest in the Uco Valley, which was fortunate because that is where the alluvial mountain soils are best drained. In addition to rain, we had hail in Adrianna and were very grateful for the hail-netting over our grand cru parcels. The vineyard was dry farmed, and we were able to see the full extent of organic farming with wild flowers, bees and insects flourishing because of the increased water. The harvest season was shorter than average by about a month and the climate could be characterized as Zone 1, Burgundian, by the Winkler scale. We predict that the Adrianna 2016 wines will require a longer time in bottle before drinking.
ANGÉLICA VINEYARD, Lunlunta, Maipú, Mendoza, 3018 ft elevation
A violent hail storm which occurred after flowering, reduced yields significantly. Fortunately, our precious 70+ year old vines in Lot 18, which is covered by hail netting, did not suffer any damage. This is an old vineyard in a traditional area that is a bit too warm on hot years. The cool climate this year increased the natural acidity levels so that we got to see the full glory of the old vines. An A+ vintage for Angélica.
LA PIRÁMIDE VINEYARD, Agrelo, Luján de Cuyo, Mendoza, 3117 ft elevation
This vineyard was completely dry farmed this season due to the year's increased rain pattern. And the clay soils added a level of freshness. An excellent vintage for La Pirámide.
DOMINGO VINEYARD, Villa Bastías, Tupungato, Uco Valley, Mendoza, 3675 ft elevation
Dry farmed this year. Crisp flavors and very mineral. Yields were 30% lower than usual. The Cabernet Sauvignon that goes into the Catena Alta blend was particularly stunning.
NICASIA VINEYARD, Altamira, Uco Valley, Mendoza, 3593 ft elevation
Nicasia saw a mild year with cooler than normal temperatures but no decrease in yields. The Malbec from Lot 2 was a Malbec highlight for this year, with dense flavors and delicate red fruits on the nose. There was no hail or frost (common in the area) thankfully.
ANGÉLICA SUR VINEYARD, El Cepillo, Uco Valley, Mendoza, 3567 ft elevation
Yields were down more than 50% due to the cold. The Angélica Sur Vineyard, similarly to Adrianna has very heterogeneous soils and we farm the dozens of parcels individually. Because of the heavier than usual rains, we saw greater differences than usual among the rocky and sloped parcels as opposed to the deeper soils in the plains. Again, this year we were able to understand what we have learned from friends in Burgundy about hillsides and quality levels. The sloped and rocky parcels gave the best quality.