WINE DESCRIPTION
Catena Zapata Adrianna Malbec is made from a meticulous vine selection in the best lots of the Catena family's estate vineyards. These Zapata vines are carefully hand tended and produce extremely low yields. The grapes are micro-fermented in new French oak barriques and the wine is then aged for 18 months in new French oak. This wine is made in very limited quantities.
TASTING NOTES
The Catena Zapata Adrianna is a violet with black tones Malbec from the highest Catena´s family vineyard. It offers aromas of ripe red fruits, lavender, violets, coconut and tobacco. Powerful and deep, with a grip and flavors of cassis, dark chocolate and minerals. With liquor notes, remarkable concentration, and structured tannins.
VINIFICATION
De-stemmed, whole berry fruit is hand loaded into 225 liter new French oak barrels; 100% barrel fermented for seamless oak integration; low fermentation temperatures extract intense aromas; all cap management done by hand for soft, gentle flavor and tannin extraction; alcoholic and malolactic fermentation in barrel leaves considerable lees and sediment.
VINEYARD
Adrianna Vineyard: Gualtallary District, Tupungato Alto Region, Uco Valley, Mendoza, Argentina
Parcel Name: Mundus Bacillus Terrae
Parcel Surface: 1,4 Hectares
Soil composition: Alluvial origin. Calcareus
Altitude: 4.560 ft (1.390 m) elevation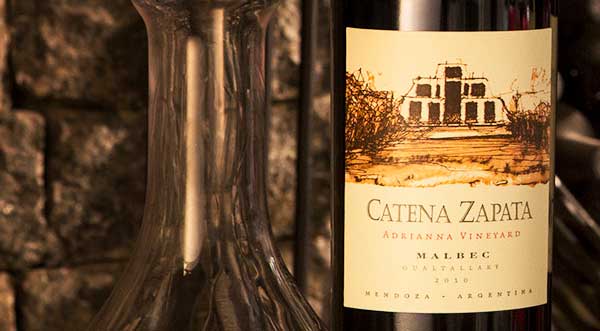 The Adrianna Vineyard Malbec wines from vintage 2008 to 2010 were sourced from the Mundus parcel.
TECHNICAL INFORMATION
Fermentation: Gualtallary District, Tupungato Alto Region, Uco Valley, Mendoza, Argentina
Varietal: 100% Malbec
Alcohol: 14%
Total Acidity: 7 grams/liter
pH: 3.5
Key Word Descriptors: Tight, high acidity, limestone soils, lots of tannins; ageability