HIGH MOUNTAIN ESTATE VINEYARDS
For over four generations, the Catena family has grown vines in the foothills of the Andes Mountains in Mendoza, Argentina. Laura Catena, great-granddaughter of winery founder Nicola Catena, has created a Malbec blend with dense black-fruit aromatics and the smooth, lengthy finish that has become the family´s trademark characteristic. Catena Malbec is sourced from the family´s high-altitude vineyards in Maipú, Luján de Cuyo Tupungato and San Carlos. From the marriage of these historic parcels emerges a wine of a unique character that has natural balance, concentration and a distinct varietal identity.
TASTING NOTES
The 2008 Catena Malbec shows a dark violet color with deep bluish-black tones. The nose offers ripe, concentrated dark fruit aromas with delicate floral notes and traces of mocha. The mouthfeel is rich and lush, with spices, tobacco and a touch of leather. The finish presents soft, supple tannins with bright, crisp acidity and a flinty minerality that gives the wine exceptional length.
VINTAGE
December rains which made for good canopy growth. Dry after mid January with sunny days and cool nights. The harvest was about 10 days earlier than usual.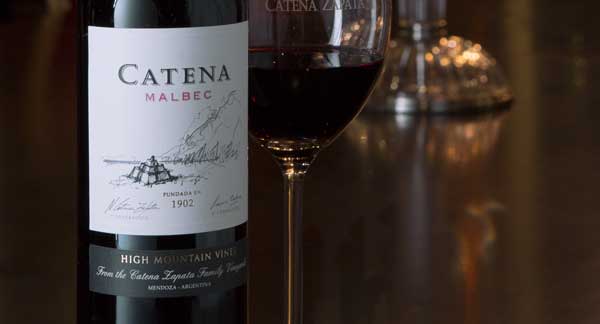 VINIFICATION
This wine goes through an extensive cold maceration for 8-10 days at 45°F to extract aromas. The juice is then fermented for 14 days with a post-fermentation maceration of 16 days to extract flavors and structure; malolactic fermentation happens in barrel; the wine is aged for 14 months in 75% French oak (20% new) and 25% American oak.