HIGH MOUNTAIN ESTATE VINEYARDS
For over four generations, the Catena family has grown vines in the foothills of the Andes Mountains in Mendoza, Argentina. Laura Catena, great-granddaughter of winery founder Nicola Catena, has created a classic Cabernet Sauvignon blend that fuses ripe, sweet tannins and spicy aromatics with elegant notes of black currant and cassis. Catena Cabernet Sauvignon is sourced from the family´s high-altitude vineyards in Lujan de Cuyo and Tupungato. From the marriage of these historic parcels emerges a wine of a unique character that has natural balance, concentration and a distinct varietal identity.
VINIFICATION
No cold maceration; the juice begins fermentation right away. Short 12-14 day post-fermentation maceration; finishes malolactic in barrel. Aged for 16 months in 80% French oak 30% new, 20% American oak 20% new.
VINTAGE
The sanitary conditions, aromas, tannin development, especially in the reds, were absolutely perfect. The weather stayed dry from the end of December through May, with moderate temperatures, almost no rains, sunny and breezy at night. The key to this vintage was judicious irrigation management. Drip irrigated vineyards had a definite advantage. We had the opportunity to stress each and every vine just the right amount.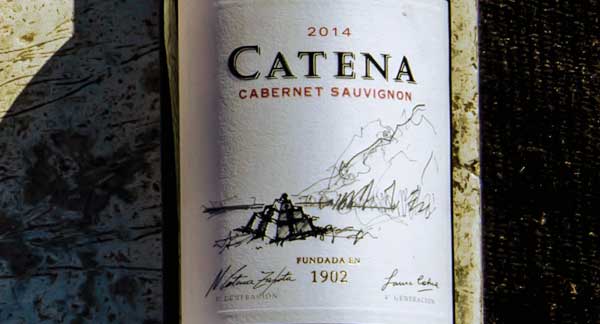 TASTING NOTES
The Catena Cabernet Sauvignon shows a dark violet color with shades of rubies. On the nose it offers aromas of ripe black currant, sweet spice, red fruits and cassis. On the palate it displays layers of cassis, tobacco and black pepper. This Cabernet Sauvignon is an elegant wine with tannins that provide structure and a long, persistent finish.