Laura Catena Looks to Next Generation in UC Davis Lecture Series Talk
Wine Business by Kendal Koorenny - May 31, 2019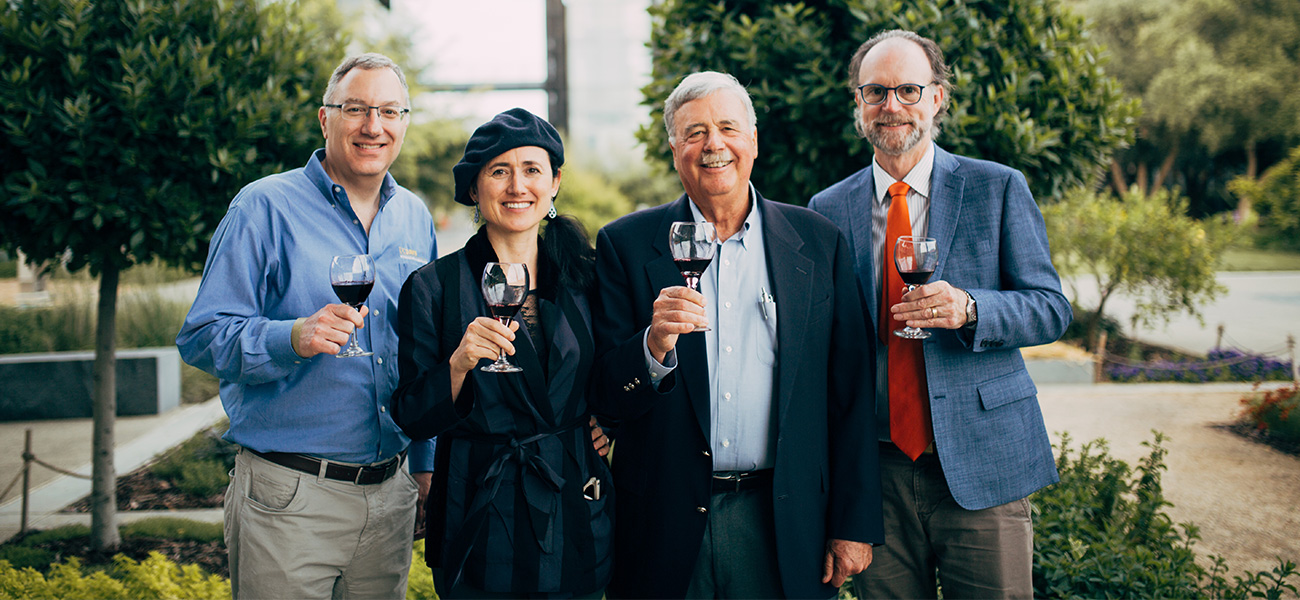 From left: David Block, professor and chair, Department of Viticulture and Enology; Laura Catena, Managing Director, Catena Zapata, and Founder, Catena institute of Wine; Walt Klenz, CEO Beringer Blass Wine Estates (Ret.); Andrew Waterhouse, director, Robert Mondavi Institute. Photo credit: Alana Joldersma.
UC Davis hosted Argentine wine expert Laura Catena on Thursday, May 30 as the featured Walt Klentz Business Speaker at the Robert Mondavi Institute for Wine and Food Science. Catena is a physician and winemaker who resides in both Mendoza, Argentina, and San Francisco, California, in order to balance both of her careers. In her lecture titled "How Science Can Preserve the Ancient Art of Winemaking," Catena detailed her experiences in helping establish Argentina's wine industry.
Her family's affinity for grapes and wine began with her great-grandparents. Her great-grandparents migrated from Italy to Mendoza, Argentina, and planted the first family vineyard, which included Malbec grapes. The family's winery, Bodega Catena Zapata, was founded in 1902. The vineyard and winery were passed down in the family, and when Catena's father, Nicolás Catena Zapata, received the winery, he determined to make great Argentine wine. Inspired by Robert Mondavi himself, Catena's father asked, "If the Californians can do it, why not me in Argentina?" Catena realized both her father and her country needed her. While still working as a doctor, Catena demonstrated both love for her family and pride for her country when she began making wine with her father.
During her talk, Catena discussed the first time Bodega Catena Zapata received an invitation to Wine Spectator's New York Wine Experience in 1995. Catena represented Bodega Catena Zapata at the event because she spoke English well, and she recalled how visitors quickly passed her booth upon reading "Argentina" on her sign as they sought booths serving European wines. She juxtaposed this tale with another story from her visit to Wine Spectator's New York Wine Experience, this time in 2018. In 2018, Bodega Catena Zapata was featured as one of ten wine stars, and Catena addressed the crowd from the stage as she spoke at the event. She marveled at the winery's transition from the overlooked booth to the highlighted feature.
Her wines have been highlighted in other ways as well. Last year, Catena's 2016 vintage Adrianna Vineyard River Stones Malbec wine became the first South American wine to receive 100 points by Robert Parker's Wine Advocate. Reminiscing on this victory, Catena shared her pride in the Malbec grape, its power to yield wines with consistently smooth tannins, and how this French native grape has become strongly associated with her country.
She wants to share her enthusiasm for Malbec and viticulture with the next generation of Argentinians, so she founded the Angélica Zapata Foundation in honor of her grandmother. This foundation provides local Argentinian high school students with the opportunity to visit her Mendoza vineyards and to learn about viticulture. Catena's goal is to offer these students experiences that inspire while teaching them about life in the countryside.
She tells students to learn "useless" knowledge because this information may turn out to be the most important. When she enrolled in French classes in college, people consistently questioned her decision to do so. However, her trips to French wine regions as her dad's translator proved her knowledge of the French language invaluable.
Aside from inspiring the next generation, Catena also seeks to improve winemaking for the current generation. Having founded the Catena Institute of Wine in 1995, she utilizes her background as a scientist, performing research to improve the fields of viticulture and enology. Catena has intensely studied the Malbec cultivar and is particularly interested in studying its ageability. The Catena Institute of Wine is currently researching grafting, rootstocks, and viruses in the efforts to lead Argentina's vineyard replanting movement, a movement Catena says was born out of necessity. She is proud to publish her institute's research and enjoys collaborations with other research entities, such as UC Davis. Her pursuit of collaboration originates from her belief that we all share one planet. Living in both Argentina and California, Catena's international worldviews and experiences have led her to produce wine that excels not only in Argentina, but also all over the world.
READ MORE AT WINE BUSINESS
READ LESS