Adrianna Vineyard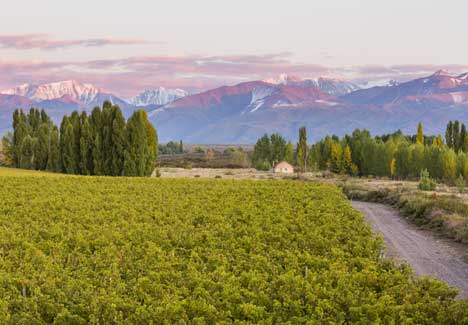 Namesake: Nicolás Catena's youngest daughter.
District: Gualtallary
Region: Tupungato
Planted in: 1992
Altitude: 4757' (1450 m)
Soil: Alluvial, gravelly. Limestone topsoil.
Top Soil Depth: 2.62' (0.80 m)
Subsoil Type: Alluvial round rocks covered with limestone.
Average Temperature: 54.5°F (12.5°C)
Thermal Amplitude: 57.7°F (14.3°C)
Planted Varieties: Malbec, Chardonnay, Cabernet Sauvignon, Pinot Noir, Viognier, Cabernet Franc.
Malbec Description: Explosive floral and red fruit aromas with notes of cinnamon. Well structured tannins with great lenght.
Cabernet Sauvignon Description: Ripe black raspberry and wild red berry aromas. Complex flavor profile with mineral and mint notes. Excellent structure with finely grained tannins.
Chardonnay Description: Strong Mineral and citric character. Lively floral notes. Optimal acid balance.

BACK TO "ADRIANNA VINEYARD"